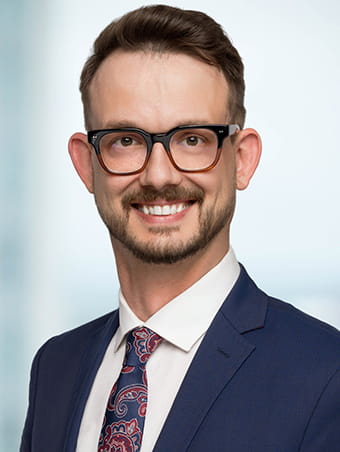 Krzysztof
Podolski,
BCom, CFP ®
Associate Financial Advisor
Phone: 905 272 3900 ext. 25
With over a decade of experience in the financial services industry, I am committed to providing exceptional financial planning services to knowledgeable professionals seeking to secure their financial future. Holding a Bachelor of Commerce degree from the renowned Alberta School of Business at the University of Alberta, I have honed my expertise in crafting personalized strategies to help individuals across Ontario, Alberta, and British Columbia achieve their financial goals.
Having lived in both Grande Prairie and Edmonton, I bring a comprehensive understanding of the diverse financial landscapes in different regions. Having recently settled in Toronto, I embrace the flexibility of modern technology, allowing me to serve clients remotely throughout Ontario, Alberta, and British Columbia. Whether you're in urban centres or remote communities, I am dedicated to offering you the highest level of financial guidance.
My qualifications extend beyond academic achievements. As a Certified Financial Planner (CFP) designation-holder with a CIRO license for equity, fixed income, and fund trading, I possess the necessary skills and knowledge to navigate the intricacies of today's financial markets. I combine this expertise with a collaborative approach, working closely with clients to develop tailored financial strategies that align with their unique circumstances and aspirations.
Beyond my professional pursuits, I prioritize my family and am fortunate to have an amazing partner by my side, raising two exceptional young individuals. As we embark on this new chapter in Toronto, I am excited to discover the city's vibrant live music scene and pursue my budding interest for sailing. I also find fulfillment in contributing to causes close to my heart, volunteering my time and expertise to support the betterment of our community.
If you are a knowledgeable professional seeking a dedicated and experienced financial advisor, I am here to guide you on your path to financial success. Together, we can develop a comprehensive plan that empowers you to achieve your goals, preserve your wealth, and secure a prosperous future.
Ready to connect? Book a meeting here
The most widely recognized financial planning designation in Canada and worldwide, the Certified Financial Planner® designation provides assurance to Canadians that the design of their financial future rests with a professional who will put their clients' interests ahead of their own. CFP certification is considered the standard for the financial planning profession worldwide. CFP professionals have demonstrated the knowledge, skills, experience and ethics to examine their clients' entire financial picture, at the highest level of complexity required of the profession, and work with their clients to build a financial plan so that they can Live Life Confidently™.